How to Sell Your Home without an Agent and save on 6% Real Estate Commission ?
Typically, real estate commission is 5%–6% of the home's sale price. In most areas the buyer's agent receives 2.5%–3% in commission and the seller's agent receives 2.5%-3% in commission.
The commission is paid by the seller of the house. However , you always can sale home without agent in Maryland
The home owners can reduce or eliminate listing commissions entirely and save an average of $15k. You can sale home without agent in Maryland by listing it as a sale by owner on MLS for a flat fee .
Call Now 240-308-5434 for a more information!
If a person has the time and enthusiasm to sale the house by owner. We believe that we have the tools to help house owners. The benefits are pretty substantial from the FSBO approach, for sale by owner .
Beyond saving on commission a homeowner will have more control over negotiating price and other factors during the house for sale by owner process.
Simple take out the person in the middle, the real estate agent, and you will be able to negotiate with the actual buyer. The sale transaction will have more sense. The only two people who have an interest in it will be directly involved in the sale price negotiation.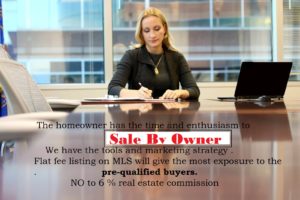 As a member of the MRIS (the Regional Multiple Listing Service) all over Maryland, Washington, DC and Northern Virginia I offer to list your house in the realtor's database (well-known among Americans as MLS) without traditional 6% commission charge.
Owner of the house will select the amount of reimbursement to opposite party (buyer agent) who brings the Buyer. Generally it is 2.5%-3% but up to the Seller as these fees is not set by law.
Call Now 240-308-5434 for a more information!
Listing your property on the Maryland MLS (MRIS.COM) is the best way to sell. Get exposed to all real estate agents. List on MLS realtors database.
We are offering listing of your home for a low flat fee on the MLS!

List on the MLS just like all other realtor represented sellers. Pay a commission only if a buyer agent brings you a buyer. If you sell your property as a FOR SALE BY OWNER Maryland, you pay no buyer agent commission, saving even more in commissions. Please contact us if you have any questions about home selling process or need any home for sale by owner contract forms.