What is Flat Fee real estate services ?
We all know traditional Real Estate Services are based on a average 6% commission . However, every house is different . Moreover, every seller is different. Sellers and Buyer must have a choice. That's why I am happy to introduce you with Flat Fee Real Estate Services. It is also know in Europe as a A La Carte Real Estate Services. Agent and Realtor provide real estate service and consultation for a flat fee rather than changing traditional 3-6% commission from the sale price of the house.
Call Now 240-308-5434 for a more information!
Traditionally real estate brokers were working in the United States by assisting sellers and buyers with home search or home sale process and charging them 6 percent commission. However it was couple decades ago when average house price in USA was about 100k only. Is it still appropriate to charge 6% commission from selling price in 2017 when the average house price is 450k? Is it still fair when seller has to pay about $25,000 from his pocket to close the sale deal. Just image that you could walk out from house sale transaction with Net Worth capital $25,000 more. Would be nice to have that extra money.
Traditional real estate agents services would include following: marketing and advertising of the property, handling buyer inquiries and arranging showing on the property. Also, open house hosting is a well-known real estate agent service . However,probably most important from all agents duties would be sales contract preparation and price negotiation on behalf of the seller of the property .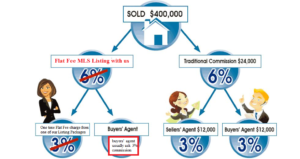 Modern brokers and flat fee real estate agents can get into Exclusive Agency contract with home sellers. Such fee for service contract allow home owners to hire a Realtor and retain the right to sale by owner. Seller pays only small flat fee for a specified services such as marketing and listing within MLS. Such concept allows homeowners to list their property within local realtor's database and reduce the cost of selling a home by owner . Flat fee listing agent services is a great option for a homeowners who are comfortable enough with managing the selling process, hosting open houses themselves and negotiating selling price on their own directly with the buyer.
The United States Department Of Justice encourage the flat fee real estate business model of services because it creates competition among brokers and allows customers to save thousands of dollars.
Call Now 240-308-5434 for a more information!
Why list on the MLS?
MLS stands for "Multiple Listing Service" and is "realtor's search engine for house on sale".
Above 90% of all properties sold in the US are result of being listen within MLS house database.
All licensed real estate agents who has serious buyer search house for them on MLS.
If your house listed on MLS it will be also listed on all local brokers websites
MLS listed properties sell faster and for more money than non-MLS listed "for sale by owner" properties.
Why use a Flat Fee MLS listing Realtor rather than a traditional 6% commission broker?
MLS listing of your house provides maximum exposure to all potential buyers . And you pay only one-time low Flat Fee as an alternative to 6% commission.
House seller keeps the right to sell the property on his own. No commission is payed on sale by owner.
You are personally have control over the listing and price negotiation process! Realtors who are working with per-qualified Buyers will call you directly. Your name and phone numbers will be displayed on the MLS listing.
You can cancel for free your MLS listing at any time.
CMA (Comparative Market Analysis . Upon your request we will prepare for your subject property comparative marker analysis which will help to determine correct house selling price and better understand how much your home is worth. Nothing sales property better then right price. We will provide you with CMA for SOLD, LISTED and PENDING homes nearby that are similar in size, location and condition.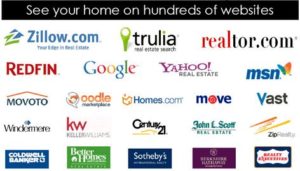 Contact us by phone 240-308-5434 or email [email protected] to discuss what is your house worth, what is the current market valuer of your property?